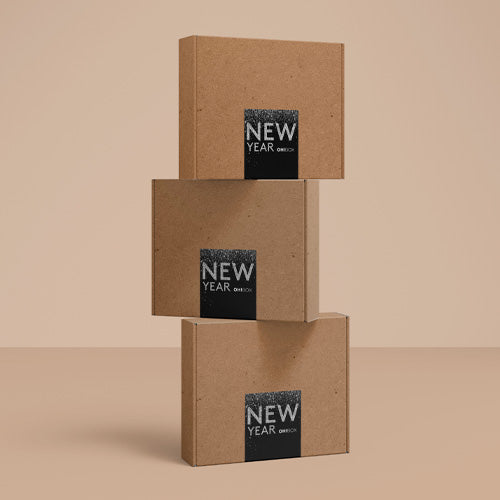 Meet Obox, the beauty box that the whole network is talking about
Written by Oh! Glow
Last updated 1/16/2023
She only goes out once every three months and girls who already know her wait impatiently for her and can't stop talking about her, she has care, beauty, and lifestyle products that you won't find in any pharm in the mall and she somehow manages to drive the chain crazy every time. Its price is ridiculous, and inside you will find products worth between NIS 1000 and NIS 1300 (the price varies from box to box), which makes it hard not to fall in love with Oglo's Obox. It's time for you to get to know the beauty box that the whole network is talking about - Obox.
What's the deal with this Obox?
The Oh!Box is a quarterly box that only comes out once every three months. It usually contains between 8 and 12 beauty and lifestyle products (the products and the amount of products vary from box to box, but the concept is the same). The value of the products will usually range between 1200 NIS and 1500 NIS (!) and the cost of the box is suitable for every pocket and ranges between 249 NIS and 300 NIS (depending on the products inside), and yes, this also includes delivery to the door. All the products in Ubox are unique products that cannot be found in any pharmacy store in the mall. The goal of the OhBox is to allow girls to be exposed and get to know indie products and brands that are characterized by high quality control and unique components, ones that most girls don't get to be exposed to in their day-to-day life, and all this of course, at a reasonable price (and full size!)
What does indie brands mean?
Indie brands are small, independent, niche brands with social and environmental agendas, all of them without experiments in the pharmaceutical industry and are careful about quality components and high quality control. We set ourselves the goal of helping girls feel their best by choosing brands that have effective products, high-quality, innovative and clean formulas without compromising principles important to them - and to us. The very fact that these are relatively small brands brings those brands to be very careful about the quality of the product and its effectiveness, with a loyal audience of customers who choose to take care of both the environment and their facial skin, the indie brand market could not help but gain unprecedented momentum in Europe, and the Scandinavian countries were the first to adopt the trend, now the news is also reaching Israel.
Inside the OhBox you will find between 8 and 12 perfect products! The contents of the box change from time to time. We try to maintain a wide range of products that are suitable for all ages and cover a wide range of skin problems. Inside the box can be lipsticks, exfoliants, body cream, face cream, night serum, day serum or even a particularly valuable head towel (and that's just the tip of the iceberg). We launch the box about a month before it reaches you - and usually we keep the contents of the box a secret until the day it goes out for distribution. After it goes on sale and girls already receive the box - we usually conduct a comprehensive review and also tell what is inside and the uniqueness of each product. Usually we usually give priority to the purchase of the box to girls who have already bought it before.
How can I know what is inside the Obox?
big time? You will have to trust us and thousands of girls who have already bought the Obox and discovered that it is indeed the most perfect beauty box on the net. The Obox is important to us, and our goal is 100% clear - to make girls pamper themselves and enjoy themselves with worthwhile and unique products, to help girls get everything they need to have a high-quality skincare routine - in one box, and at an affordable price, rest easy knowing that our interest is always that you enjoy the box before our eyes.
Well, so while we try to be consistent with this story of not revealing the contents of the Obox, we understand that there are girls who need to know clearly what their money is spent on (for us, it takes the fun out of the story a bit, but we're also a bit of a control freak, so we I can totally understand you!) In general, the box goes on pre-sale about a month before the first shipment and after its arrival to the first girls, we publish its contents here on the website. In most cases we have more units left from the box or we make more units for girls who want to purchase a beauty box when they know what it contains. So, don't worry! You will be able to buy the Obox even after it has been released and know in detail exactly what is inside. The important point that should not be missed is that at this stage the inventory is already relatively limited, so we recommend that you make a decision as quickly as possible.
Can you give an example of what is inside the Obox?
Obviously! Not long ago we started to publish a full review of our Obox in which we review all the products that are in it, you can read the review of our latest Obox (OhBox New Year) In this link.
Can I give the Obox as a gift?
Of course you can. The Obox is actually the perfect gift, whether it's for your best friend, your mother, your sister, a teenage girl who wants to get to know and discover the world of beauty or just someone you really love. The Obox is suitable for everyone and we always make sure to plan it in a way that suits everyone, without exception.
Cool, where can I order it?
The Obox can be ordered on our website very easily under the category OH!BOX. We invite you to view the contents of previous boxes to understand the concept. The current box is theOH!BOX New year which came out in January and its contents have already been published (and yes, there are still a few units left! So you should hurry). 
Have a happy unboxing holiday!